Alpenglow Expeditions Featured In
---
What's next for Carla Perez after reaching Earth's two highest peaks in two months?
Weather atop K2 was unusually calm and clear in the early afternoon of July 24 as Carla Perez trudged through glistening snow in a final push to the summit of the world's second-highest peak.
At 28,251 feet, K2 is less than 800 feet shorter than Mount Everest, but its harsher climate, steeper slopes and greater avalanche and rock fall danger make it a more difficult and dangerous climb.
Perez, who chose to climb without using supplemental oxygen, flashed a smile while taking her final steps to the top. Her boyfriend, Esteban Mena, recorded the moment.
Perez, an Ecuador native who had climbed Everest two months earlier, walked into the waiting embrace of friend Pemba Gelje before dropping to her hands and knees to give thanks and savor one of her biggest dreams. Perez then sat up and gleefully tapped a furled Ecuadorian flag twice against her shoulder.
The 36-year-old became the first woman to successfully climb both Everest and K2 in the same year and just the fourth to reach the summit of both mountains without oxygen. Great Britain's Alison Hargreaves summited Everest and K2 in 1995, but died descending K2.
"What moves me to climb is passion, not the desire to be first at something, but I am very grateful to become the first to climb both mountains the same year," said Perez, who has climbed five of the world's 12 highest peaks sans oxygen. "I arrived at the summit feeling blessed and lucky to be with some amazing people in my life. Also, many women have sent messages of gratitude because my adventures have inspired them, and for me, that is a beautiful gift of life."
Perez points to a brave decision she made more than a decade ago that changed the course of her life — a path that led to her future husband and a job as a guide for world-renowned Alpenglow Expeditions based in Olympic Valley, California.
It was the spring of 2007 when Perez gripped a pen and stared at the secure future in front of her. The 24-year-old was back in Ecuador after earning a bachelor's degree in geology and a master's degree in geochemistry from Joseph Fourier University in Grenoble, France.
Perez had been offered a position with Schlumberger, one of the world's largest oil field services companies. All she needed to do was sign a contract. But as she studied the document, she realized the job would leave her little time to spend in the mountains. Her love of climbing had intensified during her time in the French Alps.
She put down the pen and resolved to find a way of turning her passion into a full-time profession.
"It was super scary because I felt like I was jumping from a very high place into a pool without knowing how deep it was," she said. "But I realized climbing big mountains meant everything to me. I felt climbing full time offered more opportunities to grow as a human being, not just economically."
Perez landed a position with a local guiding company, leading clients up some of the same mountains she had conquered as a teen. She began talking about her experiences and the benefits of mountain climbing, which led to paid public speaking gigs.
"I have always believed in using the power of speech along with my experiences to inspire others," she said. "My achievements can only transcend when I'm able to share what I've learned so that other people can also make their dreams come true."
Perez's parents were taken aback by her decision, at least at first.
"Mom was worried about me getting older without having material comfort," she said. "But my father, especially, has supported me in everything I have decided for my life. My parents are both very proud of me today."
Perez's father, Santiago, an avid paraglider, ignited her passion for mountains by taking his then-4-year-old daughter on a climb to the top of Pasochoa, a 14,000-foot volcano near their home in Quito, Ecuador, which is the world's second-highest capital city (9,350 feet).
"I remember just loving that experience and kept asking my father about climbing the highest mountains in Ecuador in the years after that," said Perez, who still lives most of the year in Quito. "When I was a teenager, my parents finally decided I was old enough to join a climbing club, to have the mentors and instruction to make that happen."
At 14, Perez joined the mountaineering club in Quito. She also began checking off major peaks near Quito, including Cotopaxi (19,347 feet) at age 15 and Chimborazo (20,549), Ecuador's highest point, at 16 in 1999.
That same year, Ivan Vallejo became the first Ecuadorian to climb Everest, doing so without oxygen. Perez became enthralled with duplicating that feat after attending a presentation by Vallejo, who eventually climbed all 14 of the world's 8,000-meter (26,246 feet) peaks.
Many women have sent messages of gratitude because my adventures have inspired them, and for me, that is a beautiful gift of life.
"I actually decided to climb Everest without oxygen in 1999," said Perez, who realized that dream 17 years later in 2016. "Hearing about Ivan's climb became a real motivating force in my life."
Little did Perez know that Vallejo would begin playing a more direct role in her climbing career about a decade later, after she became the first Latin American woman to climb the challenging icy and rocky southern face of Aconcagua in Argentina, the highest point in the Western Hemisphere (22,837 feet).
Perez reached the summit in 2009 with friends Joshua Jarrin and Mena, with whom she began to develop a strong connection during a climb. "Esteban and I met while I was guiding and became instant friends," Perez said. "The passion that we share for exploring our limits took us to Aconcagua. … We started to share our lives and experience adventures together around the world."
The trio's climb was big news in South America, prompting Vallejo to invite them to join a mountaineering group he was forming called Somos (we are) Ecuador. That led to Perez's successful climb of Manaslu, the world's eighth-highest peak (26,781 feet), without oxygen in 2012.
After coming about 800 feet shy of the summit on her first Everest attempt in 2013, Perez knocked off Earth's sixth-highest peak (Cho Oyu, 26,906) in 2014 and 12th-highest (Broad Peak, 26,400) in 2015. Both were done without oxygen.
Perez returned to Everest the next year and became one of only eight women to climb it without oxygen. She reached the top with Mena, who has climbed Everest four times in all.
During that expedition, Perez met legendary mountaineer and Alpenglow founder Adrian Ballinger, who has summited Everest eight times, among other accomplishments. They remained in touch and got to know each other better during a series of climbs in Argentina the following winter. Impressed, Ballinger offered both Perez and Mena guiding positions with Alpenglow.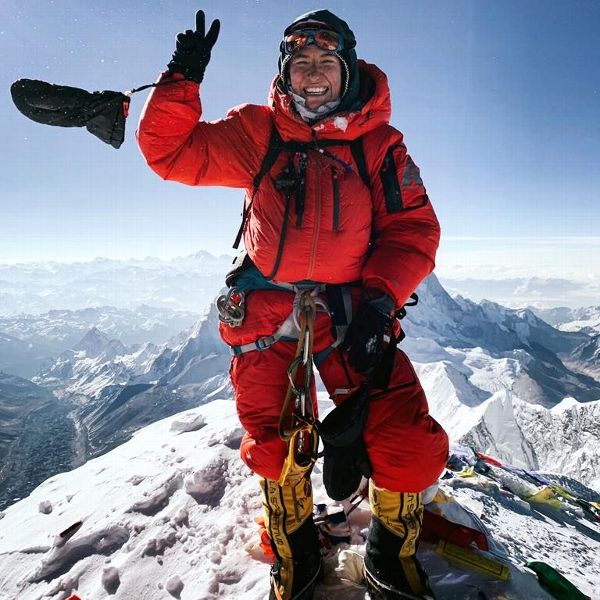 "Carla always works very hard to prepare for major climbs with extensive training, giving her the energy reserves she needs at high altitude," Ballinger said. "I knew those qualities would make her a great guide for us, along with how she connects with people and makes them feel she understands any difficulty they are feeling."
Perez had already planned to make K2 her central focus this year when Ballinger offered her a chance to return to Everest, this time as a guide. Undeterred by the fact that no woman had successfully completed the Everest-K2 double in the same year, Perez accepted the offer.
Not everyone was on board with the idea.
"My coach at the gym where I do some of my training and my doctor recommended I decline the invitation because of what Everest might take out of me and the training time I would lose for K2, but I felt it was too good of an opportunity, professionally," she said. "I decided to do it and see how my body responded."
Perez's preparation included weight training and jumping workouts at a gym, long uphill hikes with a heavy backpack, short uphill sprints pulling a tire, interval running and weekly climbs of either Cotopaxi or Chimborazo.
Using oxygen this time, Perez and fellow guide Chad Peele led six clients to the top of Everest, including three who had been forced to turn around short of the summit the year before.
Just three weeks after summiting Everest, Perez and Mena were on a plane to Pakistan to meet Ballinger and Sherpas Gelje and Palden Namgye for the K2 climb. Ballinger was attempting to become the fourth American to climb Everest and K2 without oxygen.
He reached the summit just over an hour before Perez and met her as he began to descend.
"Having just reached the top and seeing Carla so close was a powerful, emotional moment," Ballinger said. "I could not hold back the tears."
Perez's next goals include establishing a new route on an 8,000-meter peak and climbing the world's five highest mountains without oxygen. (She has three more to go.)
"This path I have chosen has given me so many experiences, but also required leaving my comfort zone and jumping into the unknown," she said. "But once you are living the dream, you live it with passion, dedication and gratitude."