Baldor Specialty Foods Featured In
---
Americans Empty Nation's Grocery Shelves to Hunker Down at Home
Packaged food companies boost production to meet demand spike

 Purchases also rising for fresh food such as meat and poultry
Ever since mid-January, Adnan Durrani, chief executive officer of frozen-food company Saffron Road, knew the coronavirus outbreak was poised to create a spike in demand.
For the past six weeks, his factories have been running at full capacity in order to keep items like frozen chicken pad thai and sesame ginger udon bowls on the shelves at Kroger Co., Walmart Inc. and other stores. Panicked Americans — who only weeks ago were spurning packaged food for fresher options — are now rushing to fill their freezers and cupboards as coronavirus cases spike.
"Folks are really filling their pantries," Durrani said in an interview. He's predicting his company's sales over the next three months will be 20% higher than his original forecast. "Everyone sees the barren shelves and it's not just hand sanitizer. It's pizzas, it's frozen foods."
The coronavirus pandemic is leading Americans to buy more groceries, from poultry to dried goods, as they prepare for an extended period of so-called social distancing. In turn, companies such as Campbell Soup Co. are churning out more canned foods and snacks. Dried beans, rice, tuna and pretzel sales surged in the week that ended March 7, Nielsen data show. Powdered milk sales more than doubled.
At a Costco in Wheaton, Md., outside of Washington, droves of shoppers filled their carts with bleach, giant packages of toilet paper and bottled water. Lines of customers waiting to pay, some of them wearing face marks, snaked through the store.
"It was worse than Black Friday," said Chase Johnson, 30, as he emerged with a shopping cart yielding toilet paper and bacon. "Everything was a free-for-all."
Fresh food has also seen a boost. Orders for air-chilled duck breasts and duck legs have surged this week at West Haven, Connecticut-based Bella Bella Gourmet Foods, said Bob Ambrose, a partner in the company. Website orders have increased and retail demand rose 25% in the past few days, he said.
"It's not like a hurricane where the power could be out," Ambrose said by phone. "If they're going to be held up in their home for two weeks, they don't want to just have canned goods. They want to have something good."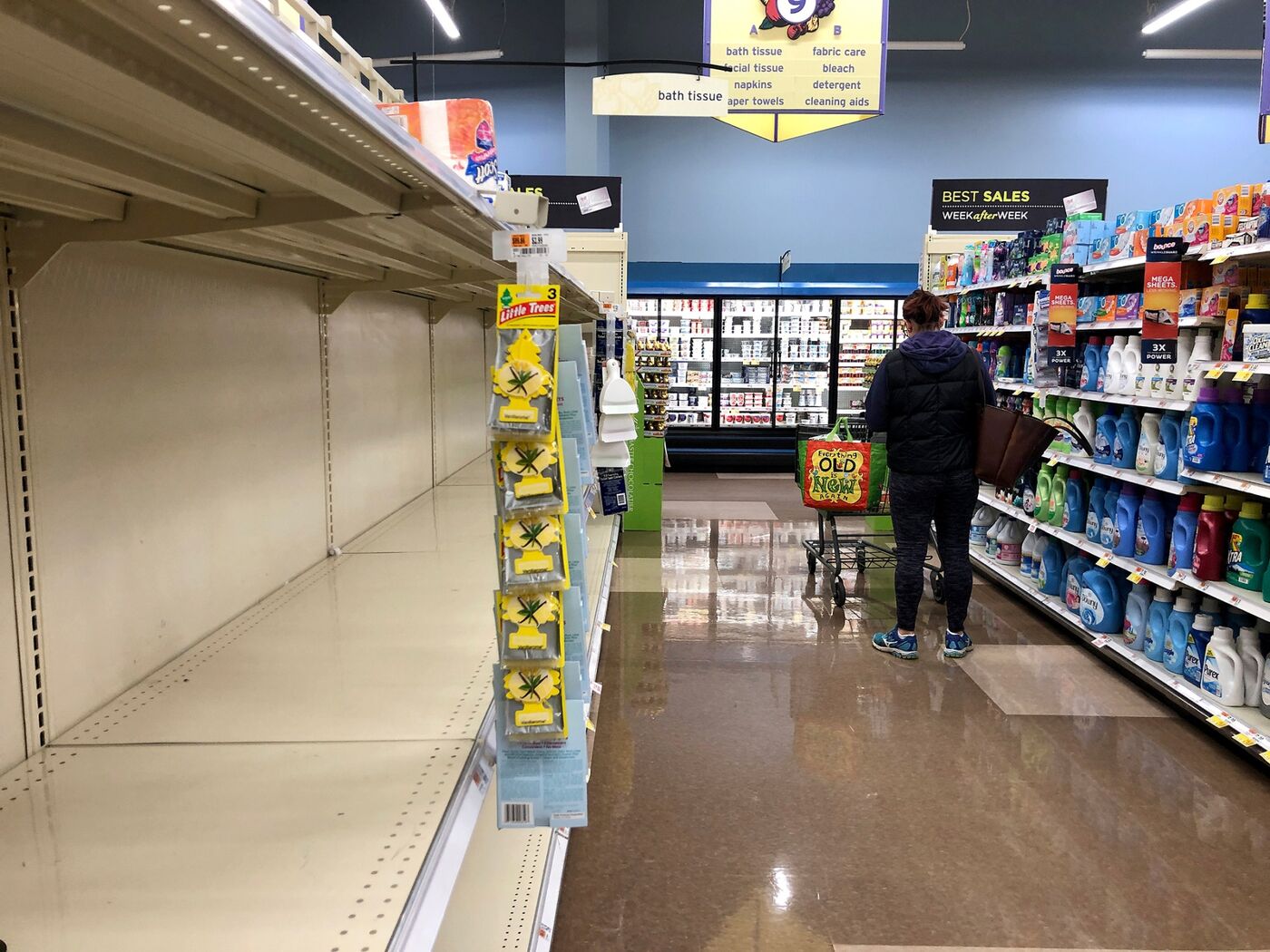 'Bearing Down'
Butcher shops that typically put in one order a week have more than doubled the number of cuts they purchase as buyers stock up on heritage beef, poultry and game birds sold in New York City, Connecticut and Pennsylvania, said Sophie Mellet-Grinnell, a protein market specialist at Baldor Specialty Foods, a Bronx-based food distributor. The coronavirus is probably prompting some people to start eating healthier to reduce the odds of getting sick, and meat wrapped and stored properly in the freezer can last for six months, she said.
"People are bearing down," Mellet-Grinnell said by phone. "I think there's some people who are afraid New York City is going to shut down."
All that extra meat means more Americans need a place to store it, boosting purchases of freezers.
"We have seen a significant uptick in recent sales of our freezer products," Whitney Welch, spokeswoman for GE Appliances, said in an email. "Many Americans are planning to spend more time in their homes, and food storage is an important component of that planning process."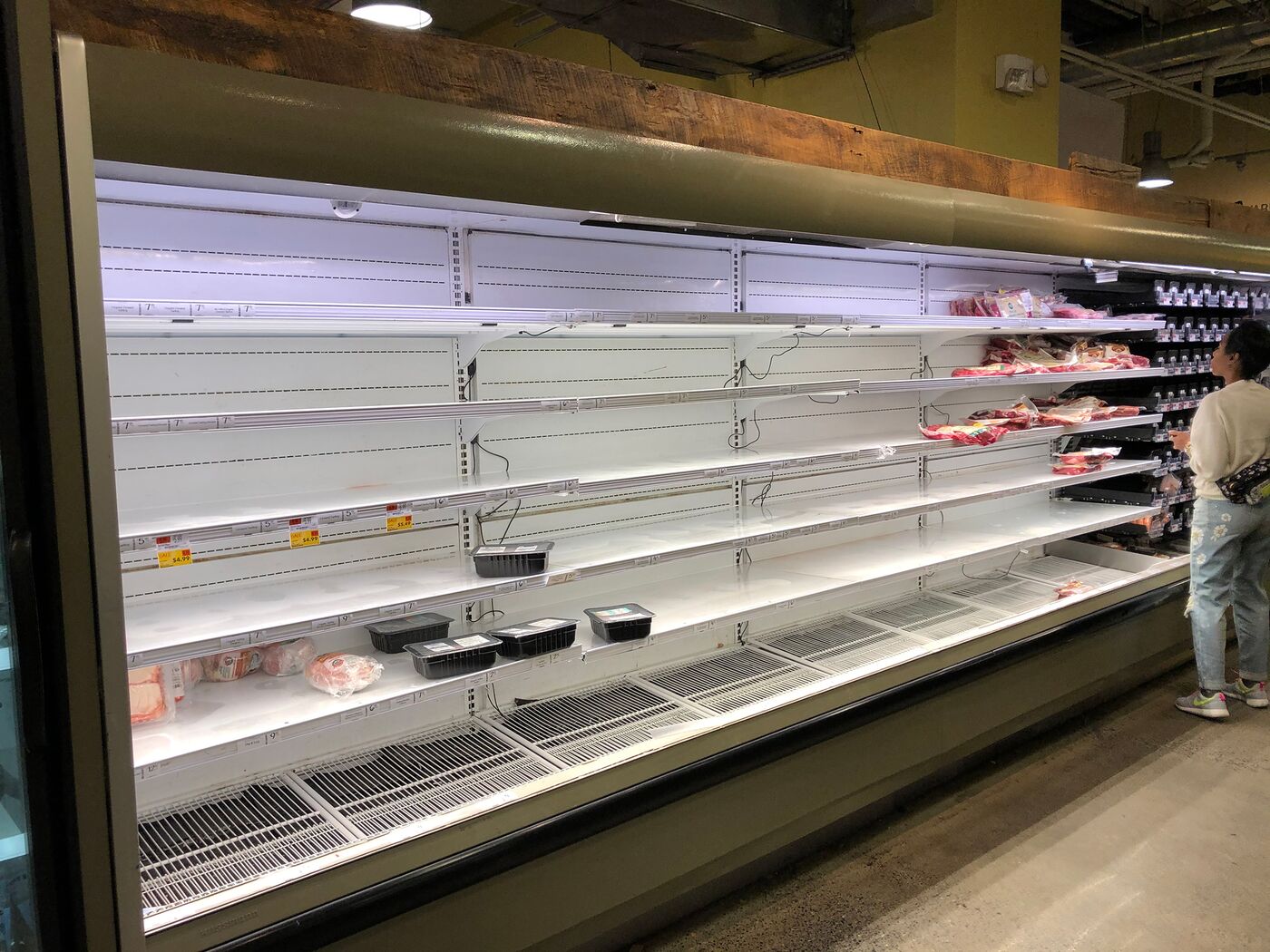 Company Sales
Investors may have to wait for a couple months to see hard data, but there are signs that food companies are seeing a clear impact.
"While we won't provide details on our business outside of our quarterly earnings, we have seen high demand for some of our foods in some areas," Kellogg Co. spokesperson Kris Bahner said.
Perdue Farms Inc., meanwhile, has seen a "significant uptick in demand" in both retail orders and online purchases, spokeswoman Diana Souder said Friday in an email. The company is working hard to fill the increased orders, she said.
The virus that was first detected in Wuhan, China, has quickly spread to become a global threat, with the death toll topping 5,000 and the U.S. declaring a travel ban on Europe. That has prompted the cancellations of festivals and sporting events and caused airlines to trim back flights.
See Also: Disney Fans Descend on Theme Parks Before Virus Shuts Them Down
Durrani recalls other spikes in food and water purchases tied to hurricanes and the Y2K scare, when fears of computer and technology shutdowns drove buying. He also remembers those spikes were short-lived, but says the coronavirus situation is different.
"Schools are closing. People are not going to theaters anymore," he said. "People are going regularly to the supermarkets, they're going regularly to fill their freezers."